Top Kiosk-Fueled Business Trends of 2013
In retrospect, 2013 was a year filled with advances in self-service kiosk technologies, which are evolving rapidly to solve real business issues in retail, healthcare, hospitality, and other sectors. In search of lower operating costs and better customer service, companies are migrating to kiosk-based business models worldwide, and the just-ended year saw strong interest in self-service systems by companies of all kinds.
It may be instructive to review some of the most significant developments and trends. Here's a brief look at some of the year's kiosk-fueled milestones – In each case, cutting-edge technology was expertly designed, developed and deployed in order to successfully meet a real-world need. Of course, 2014 holds promise for more profitable designs.
Rapidly expanding use of retail kiosk applications
As highlighted in recent commentary by Frank Olea of Olea Kiosks, a visionary and leading developer of self-service interactive systems, kiosks are now being rapidly adopted by retailers of all sizes worldwide. It seems that they allow businesses to reach more buyers at a lower overhead cost, and they precisely target the retailer's desired demographic while building brand loyalty.
During 2013, Olea announced a series of improvements to their already-successful lines of retail-focused kiosk systems. The company has become provider of choice across a broad range of retail environments. Following the launch of a successful program for Bon-Ton Stores (NASDAQ: BONT) in 2012, which may account for that retailer's improved health, Olea design teams have been applying their creativity, experience and tech leadership to bring customized business solutions for retail businesses of all types and sizes.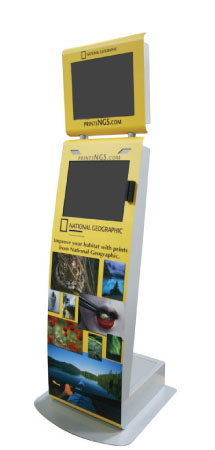 Cross-channel retail marketing through multiple interfaces
During 2013, UK-based supermarket chain Tesco launched an ambitious marketing initiative based on interactive kiosk technologies. The program was initially launched as a small, carefully-managed pilot featuring the combined deployments of digital signage to advertise the store's clothing lines, featuring self-service touchscreens that allow access to the chain's online retail catalogs, plus barcode scanners allowing customers to view pricing, product reviews and ratings, as well as suggesting related items in the catalog.
Tesco also deployed other interactive technologies including a virtual mannequin system to greet and interact with shoppers. All in all, this savvy grocer's blend of interactive kiosk technologies appears to be on-track for long-term success, and it may demonstrate the wisdom of comprehensive retail marketing strategies that use multiple interactive interfaces.
The "House" is a kiosk, yet a gambler is only human
In a preview of the evolving kiosk business models of the near future, companies are discovering new ways to leverage the power of machines to encourage customers to spend money. In April, an enterprising golf-amusement company in Nevada launched a business model in which wager-minded golfers subscribe to a hole-in-one challenge administered through a kiosk system, with a minimum bet of $5.
To determine the outcome of the wager, the kiosk relies on high-definition video cameras overlooking the course. Recorded footage captures both the swing of the golfer and the path of the ball, yielding proof of the golfer's success in achieving a hole-in-one….. or a miss. Thus, kiosks can effectively and economically function as automated attendants and referees for an almost limitless variety of sporting, gaming and amusement business models.
Going forward in 2014 and beyond, it seems likely that an increasing number of business models will create significant revenues by using adaptive, interactive kiosks to observe and score players' and gamers' performances, and account for wins and losses.
The coming convergence of kiosks with mobile barcode scanning and payments
The most exciting new technologies to appear in 2013, such as mobeam, are those which make it easier to review retail product and service offerings through kiosks, then pay for purchases directly through barcode scanning interfaces on mobile devices. This trend in mobile commerce with kiosk-as-POS is already growing through systems that transact using coupons, tickets, gift cards in barcode-friendly business niches.
During 2014, the retail marketplace should expect to see even more kiosk deployments with mobile-scanning and payment capability for retailers, both large and small. Leading kiosk designers such as Olea are now crafting individualized systems that feature barcode capability to serve walk-up retail consumers, and early results seem promising.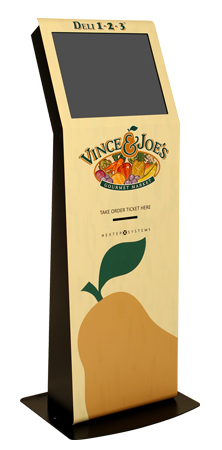 Diversity in kiosk retailing
One of the noticeable trends has been the move toward diversity of products and services retailed through kiosks. Coinstar, a retailer strongly committed to kiosks, recently changed its name to Outerwall (OUTR). The company plans to expand beyond its current strong presence in the DVD-sales niche through its Redbox division, toward a broader customer base, by offering coffee, health and beauty products, food, gift cards, and even photography.
Highlighting the potential size of the market for kiosk-based retail sales, even as Redbox came to prominence in 2013 with its focus on English-language blockbuster DVD rentals, a kiosk-loving upstart named Globox has already stepped forward with a business model focused on foreign-language films. Diversity in product offerings through parallel channels is expected to continue increase even more during 2014.
Virtual receptionist kiosks augment costly "live" staff in healthcare and other environments
Another trend which appeared during the previous year is the adoption of virtual receptionist kiosks, which are being deployed on an ever-wider scale in hotels and office buildings, healthcare facilities, factories, and public events. Virtual receptionists can reduce operating expenses dramatically, especially when kiosk systems help leverage the time and resources of highly-skilled staff, or when companies seek to extend the reach of existing staff far beyond a single employee's workstation.
For example, carrying forward their developmental successes from 2013, in early 2014 Olea Kiosks is expected to launch The Cambridge, a next-generation self-service healthcare kiosk with full virtual receptionist functionality. The Cambridge guarantees seamless compatibility with all existing healthcare administration software and systems, plus a long duty cycle with minimal downtime.
2014: The Year of the Self-Service Kiosk
Looking forward, the ingenuity and experience of leading kiosk designers and developers will continue to help companies boost efficiency and improve end-user satisfaction, and thus achieve kiosk-driven growth and success for the future. Although it's difficult to predict the adoption curve for interactive and self-service kiosks, 2014 may become the pivotal year in which businesses adopt and deploy self-service technologies so broadly that even tech-fearing holdouts are eventually compelled to use kiosks simply to remain competitive and survive.
To learn more about the power of kiosks, contact Olea Kiosks at 800-927-8063.