Hospitality Kiosks – Better Travel for Everyone
From Millennials to Business Travelers, Hospitality Kiosks Have Something for Everyone!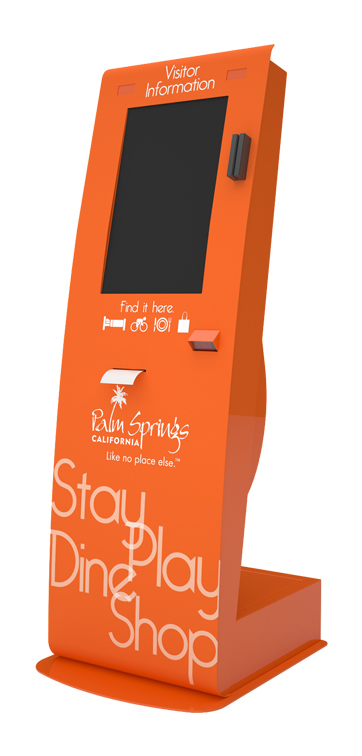 Hospitality kiosks are being deployed in a wide array of venues to provide a variety of functions including check-in/check-out capabilities, bill payment, loyalty program enrollment, wayfinding, and more.  This article will address how the hospitality industry can use hospitality kiosks as a tool to harness the powers of technology to provide benefits to both guests and business owners.
Millennial Travelers
Millennials expected to comprise 50% of all travelers by 2025, and one indisputable fact about Millennials is that they appreciate a digital experience. According to a professor of Innovation and Dynamic Management at the School of Hotel Administration at Cornell University, Millennials are the hospitality industry's fasted growing customer group. As digital natives, they have grown up with touch screen and internet-based technologies, and as a result, they are very comfortable with, and have come to expect, digital experiences as consumers. This expectation ventures into hospitality. According to the professor, hospitality businesses should count on Millennials to expect self-service check-in, payments, and concierge services, and catering to this demand through the deployment of hospitality kiosks will surely enhance the customer experience for this demographic group.
Business Travelers
As the domestic economy continues to emerge from the recession, business travel is expected to advance 3.1% in 2015. During the recession, many hospitality businesses delayed investment in updating their properties, but as the economy improves, and interest rates and inflation remain low, there is no better time to consider making improvements in hospitality kiosks that business travelers will appreciate. Self-service check-in and check-out, payments, and other services made possible by hospitality kiosks will save time for these travelers who place a premium on speed and simplicity.  The efficiencies created by kiosks will be greatly appreciated by these travelers that want a streamlined travel experience.
Labor Costs
Labor costs typically account for the number one line item on a hospitality property's profit and loss statement. Recent legislation in the United States at federal, state, and local levels will likely cause labor costs to rise as minimum wage and health care expenses will be affected by mandatory increases. Some operators will likely pass the increases to the consumer in the form of rate hikes, however, savvy operators will invest in hospitality kiosks to allow more efficient staffing, which can lower labor costs, avoid unnecessary rate hikes, and at the same time increase operational efficiency through automation of certain tasks.
Rewards and Customer Loyalty
As discussed above, labor costs are rising, but at the same time, customers are demanding more perks such as customer loyalty programs. In the casino and gaming category, operators saw membership in loyalty programs double in just four years between 2006 and 2010. With hospitality kiosks, these programs are actually very easy to offer to guests without the need to involve significant increases in staff as hospitality kiosks can be equipped to assume most of the burden. Statistics also show that if a casino can maintain loyalty of 5% of their customers, that profits can increase 100%. These same gains can be made in other categories of the hospitality industry as well.
Maximizing Profit Centers
Studies show that digital kiosks outperform their human counterparts in up-selling and cross-selling. There are two reasons for this: one, people tend to behave more impulsively when not interacting with another human, and this often leads to spending more. Two, human customer service representatives have a tendency to forget about or skip up-selling and cross-selling opportunities. Hospitality kiosks are programmed to without fail, maximize offers to guests. This increase in average guest spend will quickly translate to increased profits.
Learn more about how Olea Kiosks can help your hospitality business improve efficiency, offer an enhanced customer experience, and utilize the latest technologies. Contact us today and find out how easy it is to implement a hospitality kiosk program!
References
http://www.hospitalitynet.org/news/4068829.html
http://www.gbta.org/PressReleases/Pages/RLS_041515_USA.aspx
http://www.hotelnewsnow.com/Article/15032/As-labor-costs-rise-so-do-creative-solutions